4 Hours, Apocalyptic Horror Novella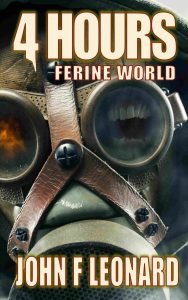 City Flu sweeps the globe. Swift, virulent, devastating.
Beneath Whitehall, a few of the immune gather in a government bunker.
Something worse than pandemic is taking place above their heads.
Two men are sent to investigate …
---
Pearcey is a veteran.
Cynical and smart.
Fear is an old friend.
Horror is nothing new.
But this is fear and horror of a different order.
It may well be an apocalyptic event. The Apocalypse, right here. right now in London, across the country, across the globe.
Ageing and tired, his biggest weakness may be the creeping compassion that threatens to undermine his cynicism.

Sonny Gallagher has another agenda. Concern for his daughter.
Is Annie okay?
In the end, nothing else will really matter for Sonny-Jim Gallagher.

The science of survival has gone out of the window. They're in a darkening world of fiction made real.

They're against the clock and the unknown.
The clock won't stop and the unknown knows no bounds.

4 Hours is a novella drawn from the Post-Apocalyptic story started in Collapse.
Save
Save
Save